Bastogne 2004
Commemorations - Battle in the Ardennes
On december 16 2004, sixty years after the Germans launched their attack in the Ardennes a group of veterans had returned to Bastogne to commemorate this event.
Although it wasn't as cold as it had been in 1944 it did snow on the 16th which added to the atmosphere.
On the sixteenth and on the following days the town was full of events related to the battle.
An impressive sound and light show was held, commemorations on the town square and at the Mardisson and on the 19th a large defile of 300 vehicles which included several tanks drove through the centre of the town cheared on by a large crowd.
Compliments to the organizers of this commemoration, which was well organized.
Belgian ww2 veteran carrying unit flag.
US Veterans salute
while standing in front of the sherman tank on the Mc Auliffe square in the centre of Bastogne while a US naval marching band passed.
Belgian ww2 veteran carrying unit flag.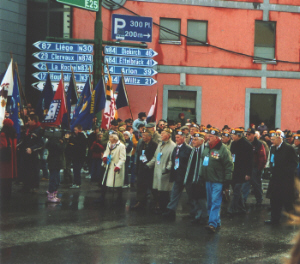 American veterans
A defile of American ww2 veterans walking towards the Mc Auliffe square.
All the above pictures where made by the webmaster.

2004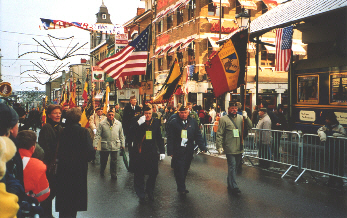 On the 16th a ceremony was held on the Mc Auliffe square in the presence of American veterans.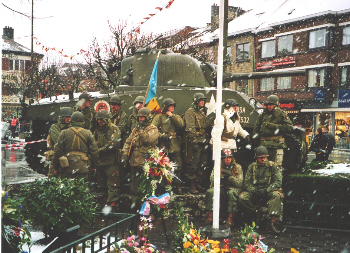 Re-enactment in Bastogne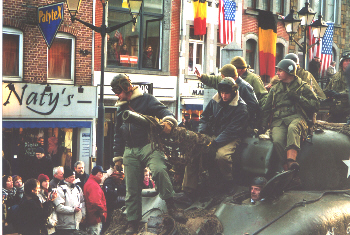 Parade in the mainstreet in Bastogne, great to see and hear the crowds and these US Sherman tanks in the small streets of Bastogne.
Great books about WWII Troop Carrier Command: