Bill Murphey - 101st Airborne Division
Co. F, 506th Parachute Infantry Regiment
The siege of Bastogne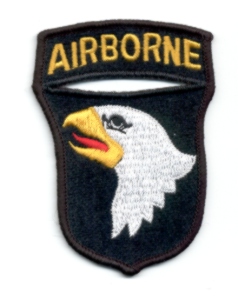 The patch of the 101st Airborne Division (screaming eagles).
We were at a rest area at Mourmelon, France when the order came that we would be going to Bastogne. We left in a haste, all leaves where cancelled and those who were in Paris were left behind. We left Mourmelon with nothing more than the clothes we had on our back which would result into many cases of trench food.
We went to Bastogne by truck. We were on one side of the road going toward Bastogne, while the 28th Inf. Division was going the other way. This division had been badly mauled by the German attack. The last mile we went on foot. We passed through Bastogne and dug in a mile or two further, near a little town called Foy. The next few days there were several fire-fights, but our position was still secure.
Then on Christmas Eve the Germans let loose with a continuous mortar attack that lasted all night and all Christmas day. It was Christmas day that a shell hit right near our foxhole. Myself and another guy were hit.
We were both taken back to Bastogne, where we were put up in an inside firing range with not much for doctors. We had to lay on the floor. There was no way we could be evacuated, because the germans had cut us off of our lines. No planes were flying anywhere due to foggy conditions. Luckily I wasn't seriously wounded.