Ettelbruck - George Patton Memorial
Museums
5, rue Dr. Klein L-9054 Ettelbruck
www.patton.lu
Description:
The museum is located not far from the George Patton monument. The collection consists for a large part of pieces of ammunition and equipment that where dug up on the battlefield. It also contains a great number of photographs. It is an interesting museum but not the best or most divers one in the area.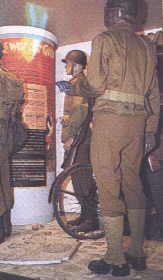 American soldiers next to propaganda posters
The opening days and hours indicated on this website may be outdated. Always check with the museums yourself before you plan a visit.