Sgt. Bob Salley 326 Airborne Engineer Battalion
101st Airborne Division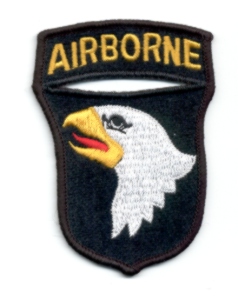 The patch of the 101st Airborne Division (screaming eagles).
In December 1944 we were in an old WW1 French Army camp at Mourmelon, France near Reims. At about two o'clock in the morning we were alerted fro the move to Bastogne. All of our divisional equipment had been turned for repair ad we had to re-equip the Division in twenty-four hours and get to Bastogne. We did that and instead of going airborne this time we moved by truck. We left Mourmelon about 2030 (8pm) and arrived in Bastogne at 0930 the next morning. We had travelled over 109 miles in open trucks and of course you must know it was winter weather. In Bastogne were immediately surrounded by eight German divisions and after a week of fighting the German commander demanded our surrender. General McAuliffe replied with the famous words "Nuts". Later the weather cleared enough so that we were able to get supplies flown in to us and we were able to overcome the German resistance.
General Patton's Army broke through to us on the twenty-eight of December. The first things they brought in were of course the ambulances. I happened to be at the hospital visiting a friend of mine who was wounded and when the ambulances arrived at the hospital if you were in the building no questions were asked. You were put on them and taken to Metz, France. I was afraid I would never get back to my old unit where I was a supply sergeant. When I finally caught up with them they had moved down to the Alsace Lorraine.
During the time we were surrounded we were posted just outside of Bastogne near the village Senonchamps. I was on guard one night with another friend. We stayed in that position all night. As it was getting near daybreak the next morning my friend stood up to stretch his muscles. He was silhouetted against the skyline of course I had seen some men coming towards us and as there were Germans all through the area I told him to get back on the ground. He was too late in doing so and was shot and killed by the men coming towards us. It turned out that these men were coming to relieve us of guard duty and were our own comrades.