Douglas M Bailey - 463rd Airborne Field Artillery
101st Airborne Division
Bastogne
My experience was not very long with the 101st as my Parachute Battalion had joined up with the 101st about a week or so before the start of the Battle of the Bulge. My Battalion started out with the 82nd A/B and we were with the 82nd From Fort Bragg, North Carolina to North Africa. Taking off from airfields in Tunisia we jumped unto the Island of Sicily shortly after midnight on July 9th 1943.
After that we went to Italy and fought on the Casino front and the Anzio Beachhead, and took part in the drive and capture of Rome. In Rome we were pulled from combat to get replacements and get ready for our next mission.
We left Italy around Midnight and jumped into Southern France around 4:30 in the morning. After moving up to the outskirts of Nice ,they sent us up in the French Maritime Alps as Mountain troops for a few months. Then we were back down out of the Mountains, and a couple weeks later we were on our way by Box Car to the 101st.

I was wounded in both legs on Christmas Eve on the outskirts of Bastogne near the village Hemourulle. Since we were surrounded they could not get the wounded out and I spent a few days on the floor of a church that they were using as a Aid Station. Later when the U.S. 4th Armored Division got through to us, I went by Ambulance to a evacuation Hospital in Thionville, France and then by Hospital train to Paris and then by a C-47 rigged up with stretchers to a Hospital in Southern England.

I was in the Hospital about 4 months and returned to the 101st that at that time was back in France, We soon loaded the trucks and went into Germany across the Rhine river from Duseldorf. Then we headed for South and were down by Munich when the War ended.
We did occupation duty for awhile in the Town of Bad Reichenhall about 18 miles from Hitlers Eagles nest in Berchesgarden.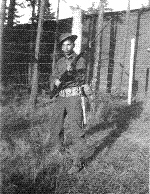 Doug on guard duty in his training days prior to his voyage oversees. He is wearing the ww1 style helmet.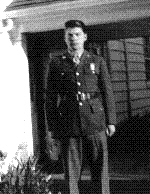 Doug in his dress uniform on leave at home right before he was send to the ETO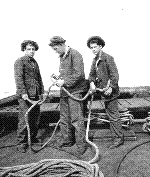 Doug and fellow soldiers training on a boat in the states.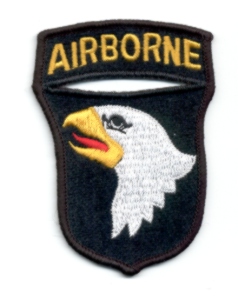 The patch of the 101st Airborne Division.
T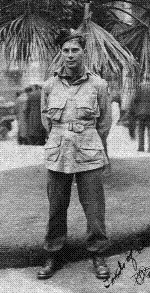 Doug in Sicily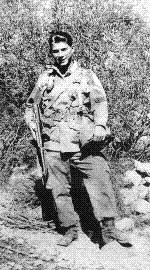 Doug in France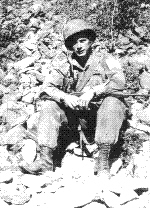 Doug in France